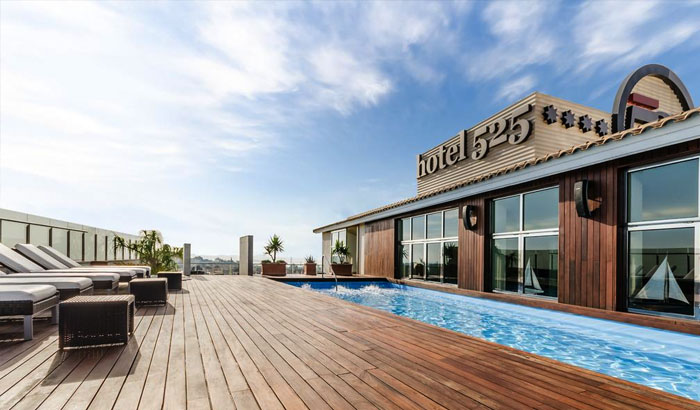 Hotel 525, Los Alcazares, Mar Menor
Hotel 525 is located in Los Alcázares,  just 5 minutes stroll from the superb Los Narejos Beach.
The design concept and attention to detail make Hotel 525 stylish and elegant. Special attention has been given to quality and comfort.
A stay at this hotel offers peace of mind and tranquillity throughout, the hotel offers a number of various guest facilities and amenities including a delightful Restaurant, Bar and a Library, a space for silence and reading, daily newspapers, in various languages are supplied here.
Guests can relax in the Spa 525 with a Jacuzzi, Sauna and Gym equipped with the latest technology in exercise machines, etc., or simply swim in the fantastic Swimming Pool on the Roof.
Hotel 525 is situated in a shopping area, where you will find many varied types of bars and restaurants.
Golf Courses
As this is a totally independent hotel you have the freedom to choose from 25 Golf Courses that are all accessible within 25 Minutes Drive.
Accommodation
Hotel 525 has 108 rooms: 90 Standard Doubles, 9 Superior Doubles, and 9 Suites. The rooms are very contemporary in design with ivory-coloured walls and mahogany wood furniture and special attention has been given to the light, aesthetics, quality, and comfort. All the rooms are provided with a hairdryer, mini-bar, safe, air conditioning, digital terrestrial TV, and wireless connection to the Internet as standard.
Example Package Prices at 525 Hotel in Los Alcazares
Exclusive Packages
4 * Hotel 525
Los Alcazares
Special Deal Valid 1 January 2022 – 30 June 2022  //  1 September – 31 December 2022
Pricing to include:
(Based on 2 people sharing a standard room)
Breakfast Included 
Your choice to play…
La Torre / El Valle / Hacienda Riquelme / Alhama Signature/ Mar Menor / Saurines de la Torre / Hacienda del Alamo
3 Nights / 2 rounds € 259 per person
4 Nights / 3 rounds € 365 per person
5 Nights / 4 rounds € 469 per person
If you would like to stay at the 4* Hotel 525 and want to play different courses to the ones listed above, just contact us for a tailor-made quote
We can also arrange airport & golf course transfers to add to your package