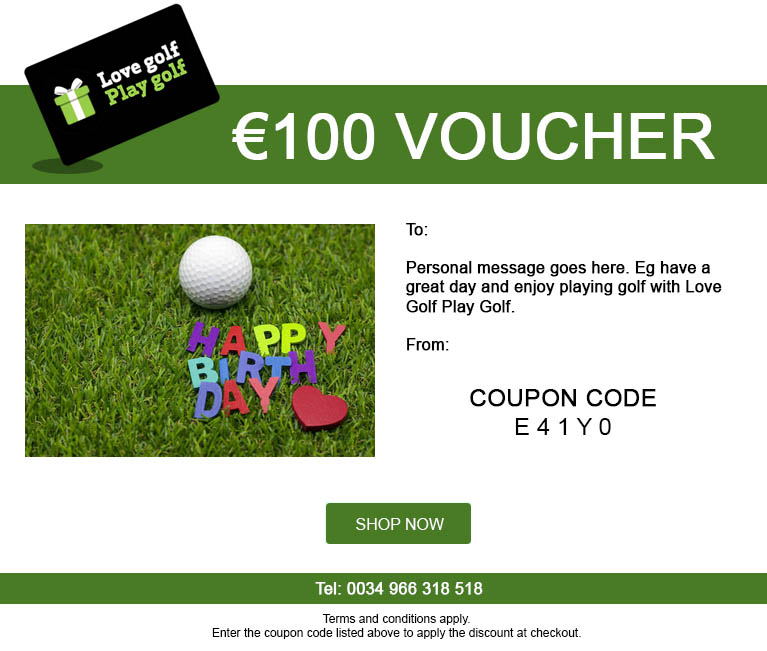 How to buy a Love Golf Play Golf Gift Voucher
With the launch of our new site in 2019 we have added many new features which we will be writing about in future blog posts. We have also created a one of a kind website which allows us to keep adding new revolutionary features to help bring you guys the best golf tee time booking services.
One of our new features is the ability to buy and send gift vouchers that can be used for green fees at any of our 30+ courses. What better gift than the gift of golf.
The process of buying a gift card is super easy.
1. SELECT YOUR DESIGN
We have a selection of designs for all occasions. Birthday, Christmas, Valentines, Weddings and more. Just select the design you'd like and move to step 2.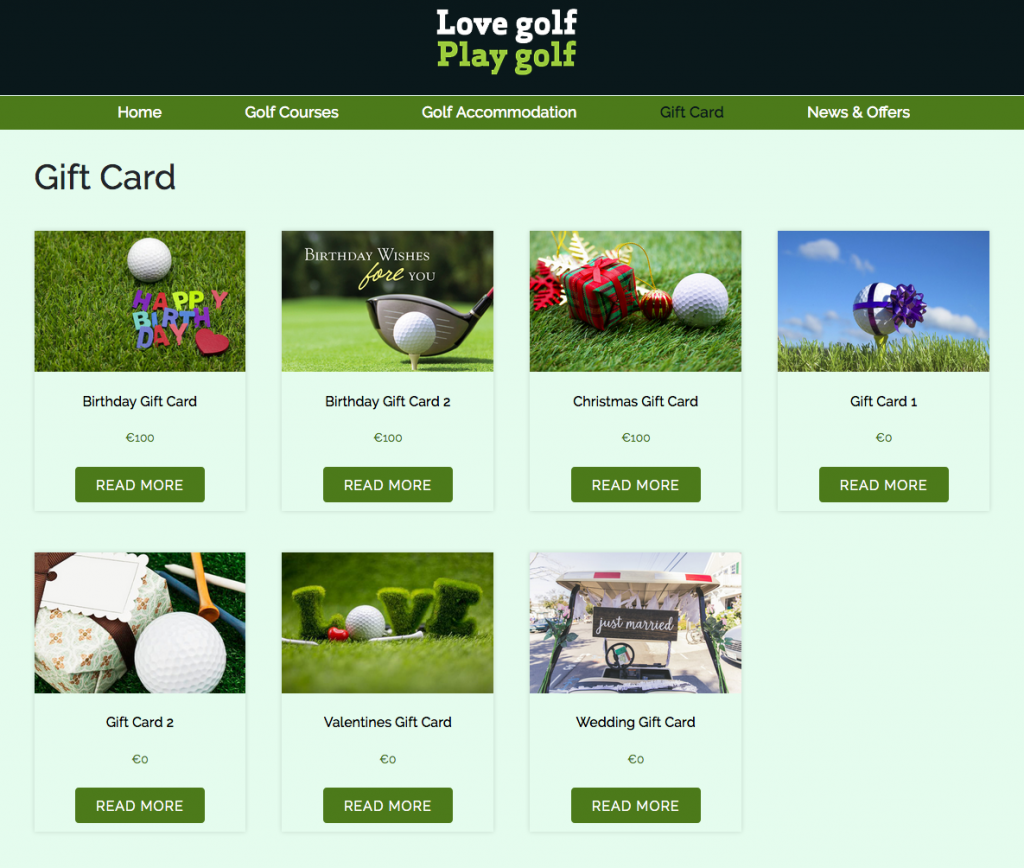 2. CHOOSE THE AMOUNT
Once you have selected your design, you now need to choose what value you want the gift card to be for. You can choose from a minimum of €50 to a maximum of €250. If you would like to buy a card for more than €250 just get in touch with one of our agents who will be more than happy to help.
Select the amount and quantity and add to basket.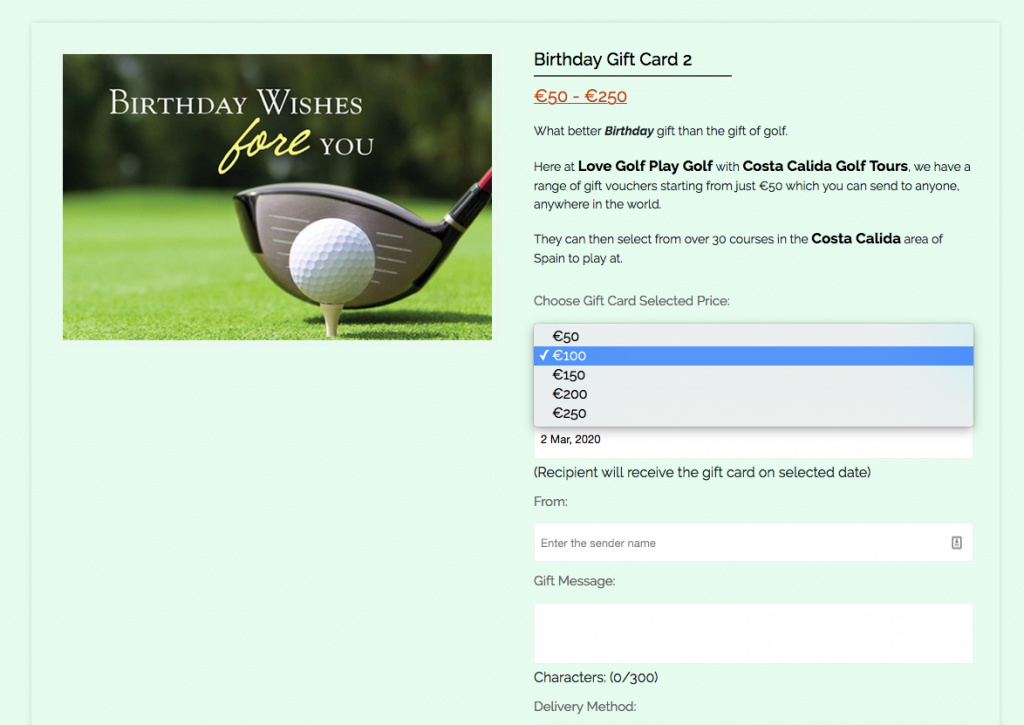 3. SELECT DATE AND ADD RECIPIENT DETAILS AND PERSONAL MESSAGE
Now select the date you would like the gift certificate to be sent and type YOUR name in the FROM box. This will be the name that appears on the email sent.
In the GIFT MESSAGE BOX, you can write a personal message to appear on the email sent to the recipient, you could wish them a HAPPY BIRTHDAY, MERRY CHRISTMAS or CONGRATULATIONS.
Next is the most important part. Type the email address you would like the voucher to be sent to. We make you type it twice just to be sure. Add the voucher to your basket and then proceed to checkout. Once payment has been received. Your voucher will automatically either be sent or scheduled to be sent.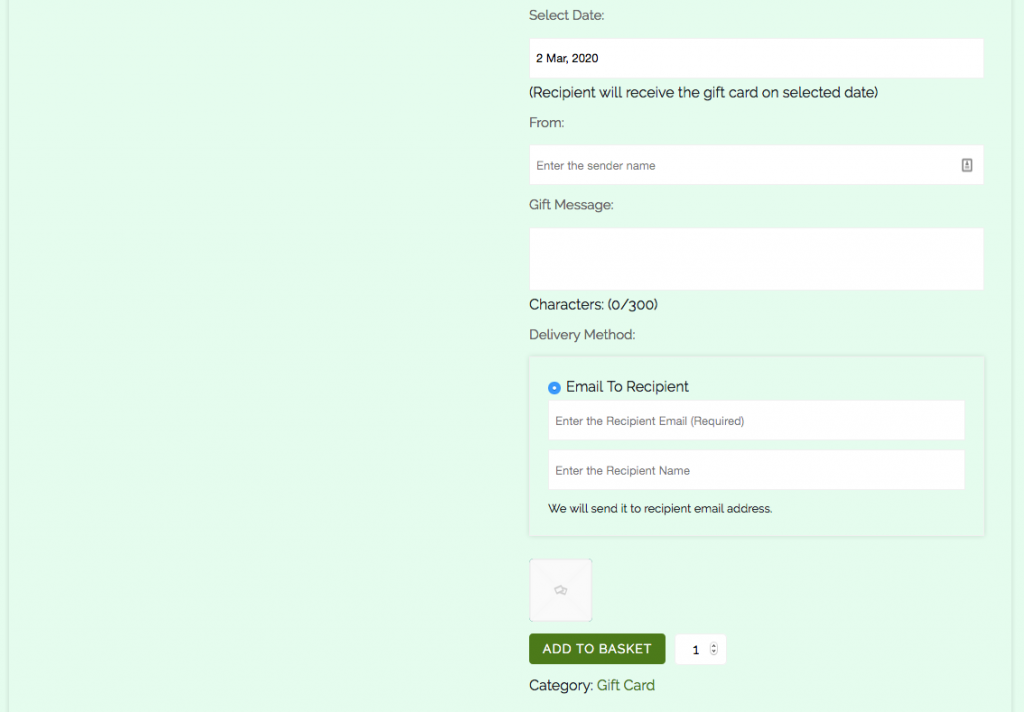 And that's it! Easy!
Remember our golf gift vouchers can be used to book green fees at all of our 30+ golf courses or any of our accommodation packages on our website. To redeem the voucher, all the recipient has to do is type in the discount code that appears on their voucher during checkout.