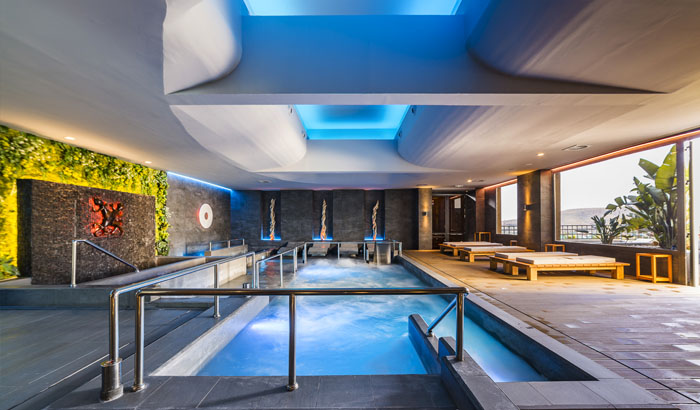 The Sercotel Valle Del Este Golf Resort's 18-hole golf course is circled by a scenic, 9km walkway.
This par 71 golf course was designed by José Canales who created some spectacular holes from this multi-level terrain. The elevated tees have great views of the holes and the hazards waiting for you as well as an occasional view of the Mediterranean coast.
It is not a long course but accuracy is essential if you are going to post a good score, many holes have ravines along the full length of the fairways. There are a number of strategically-positioned water hazards and bunkers to make each hole an authentic challenge regardless of your standard of play.
Hotel Valle Del Este 4*
The hotel is situated close to the town of Vera on the Costa Almeria. The hotel itself has been designed to respect and blend with its environment, within a short drive you have mountain villages with stunning scenery.
Available are 142 rooms with terraces overlooking either the golf course or the sea.
They offer guests free access to the spa and gym. This includes rain showers, a sauna, Turkish shower and a hot tub.
On Vera Beach, there is also a beach club with a swimming pool and sailing school.
On-site is a buffet restaurant offering international cuisine and views of the golf course. Also a poolside grill restaurant and a beach restaurant in the hotel's Beach Club.
The Vera Aquapark is a 15-minute drive away from the golf resort.
The hotel is conveniently located just off the A-7 Motorway, which runs along Spain's Mediterranean coastline.
 ———————————————————————————
2020 Rates INCLUDING Half Board
January & June
2 nights / 2 green fees € 135
3 nights / 3 green fees € 199
5 nights / 3 green fees € 285
5 nights / unlimited golf € 335
7 nights / 5 green fees € 419
7 nights / unlimited golf € 469
February & April
2 nights / 2 green fees € 149
3 nights / 3 green fees € 225
5 nights / 3 green fees € 325
5 nights / unlimited golf € 375
7 nights / 5 green fees € 469
7 nights / unlimited golf € 525
March
2 nights / 2 green fees € n/a
3 nights / 3 green fees € 245
5 nights / 3 green fees € 349
5 nights / unlimited golf € 405
7 nights / 5 green fees € 509
7 nights / unlimited golf € 569
May
2 nights / 2 green fees € 139
3 nights / 3 green fees € 209
5 nights / 3 green fees € 299
5 nights / unlimited golf € 355
7 nights / 5 green fees € 445
7 nights / unlimited golf € 495
July
3 nights / 2 green fees € 219
August
3 nights / 2 green fees € 259
September & November
2 nights / 2 green fees € 165
3 nights / 3 green fees € 249
5 nights / 3 green fees € 355
5 nights / unlimited golf € 409
7 nights / 5 green fees € 515
7 nights / unlimited golf € 579
October
2 nights / 2 green fees € 175
3 nights / 3 green fees € 265
5 nights / 3 green fees € 375
5 nights / unlimited golf € 445
7 nights / 5 green fees € 549
7 nights / unlimited golf € 615
December
2 nights / 2 green fees € 139
3 nights / 3 green fees € 209
5 nights / 3 green fees € 295
5 nights / unlimited golf € 349
7 nights / 5 green fees € 435
7 nights / unlimited golf € 485
All rates are per person and based on 2 people sharing a twin or double room
Single supplement is € 25 per day
Stay 5 nights and receive 1 FREE SPA ACCESS
Poolside room supplement € 10 per room per night
Buggies can be prebooked and they are paid locally € 29 per buggy per round