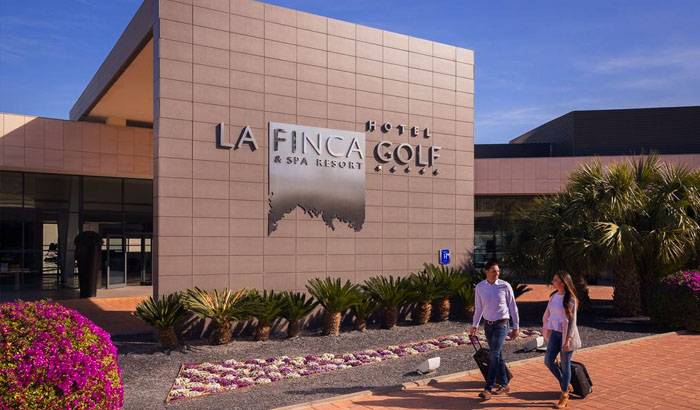 5 * La Finca Golf & Spa Resort
This resort is located on the Costa Blanca close to Algorfa, 40 minutes drive from the airports of Alicante and Murcia and well connected to the AP-7. Just 15 minutes drive from the beaches at Guardamar del Segura and the bustling town of Torrevieja with its day and night attractions to suit everyone.
La Finca Golf Course opened in August 2002. This magnificent course owes its design to Pepe Gancedo, who was one of the best players in the history of amateur golf in Spain.
18 holes, 72 par, 6,992 yds/6,393mts.  All 18 holes provide an eclectic mix of challenges for a wide range of golfing skills&hellipthe most memorable holes are the 5th, 6th and 7th, with tricky greens, bunkers and plenty of water hazards to test your skills to the limit. Also, there is an Island Green on a lake with waterfalls. The golf course is set against the backdrop of Mount Escotera, so you can imagine the spectacular views, making this a thoroughly enjoyable round of golf. However, due to the nature of the terrain and the frequency of water features throughout the golf course, we recommend you hire a buggy and bring spare balls with you.
La Finca 5* Hotel
The hotel is located in the centre of the La Finca Golf Course and has outstanding views of the course. The hotel itself is perfect for a relaxing golf holiday and the facilities are second to none.
Fitness Centre, 2 Swimming Pools, Tennis Courts
Spa and Wellness Centre including Turkish Bath, Steam Bath, Massage and more.

Restaurant
The restaurant offers a wide range of Mediterranean dishes in a relaxed, elegant atmosphere to enjoy after a long day on the golf course. The Lobby Bar has a large outdoor terrace to relax and enjoy a refreshing drink with great views and gorgeous sunshine.
Accommodation
Hotel La Finca Golf & Spa Resort has 118 modern hotel rooms and suites, all superbly decorated, all with a balcony and of course include all the facilities you could need and expect.
Hotel La Finca Golf & Spa Resort is a fantastic modern resort with everything you could need for a memorable golf break in the sun any time of the year.
Exclusive Packages     
5* La Finca Golf & Spa Resort
Pricing to include:
Based on 2 people sharing a twin/double room
Breakfast every day
2022 Rates – The Hotel will re-open on 25th February 2022
Your choice to play:
La Finca / Villamartin / Las Ramblas
 25 February 2022 – 31 December 2022
Mid Season 1
25 February – 31 May // 19 September – 13 November
3 Nights / 2 rounds € 405 per person
4 Nights / 3 rounds € 565 per person
5 Nights / 4 rounds € 719 per person
7 Nights / 5 rounds € 969 per person
The rates above include golf at Las Ramblas or Villamartin or La Finca
Mid Season 2
1 June – 17 July // 22 August – 18 September
3 Nights / 2 rounds € 375 per person
4 Nights / 3 rounds € 519 per person
5 Nights / 4 rounds € 665 per person
7 Nights / 5 rounds € 899 per person
The rates above include golf at Las Ramblas or Villamartin or La Finca
Low Season 1
14 November – 20 November
3 Nights / 2 rounds € 359 per person
4 Nights / 3 rounds € 505 per person
5 Nights / 4 rounds € 649 per person
7 Nights / 5 rounds € 865 per person
The rates include golf at Las Ramblas or Villamartin or La Finca
Low Season 2
21 November – 30 December
3 Nights / 2 rounds € 335 per person
4 Nights / 3 rounds € 459 per person
5 Nights / 4 rounds € 589 per person
7 Nights / 5 rounds € 795 per person
The rates include golf at Las Ramblas or Villamartin or La Finca
Summer Season
18 July – 21 August
3 Nights / 2 rounds € 419 per person
4 Nights / 3 rounds € 579 per person
5 Nights / 4 rounds € 739 per person
7 Nights / 5 rounds € 999 per person
The rates include golf at Las Ramblas or Villamartin or La Finca
Transport between the Hotel & the two external courses, can be prebooked for a supplement of € 10 per person (return journey), the transfers leave the hotel at 8 am & 11 am)
If you would like to stay at the 5* La Finca Golf Resort Hotel and want to play different courses to the ones listed above, just contact us for a tailor-made quote
We can also arrange airport & golf course transfers to add to your package