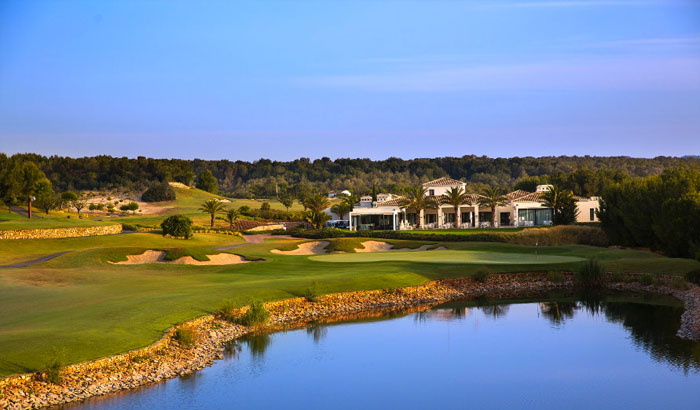 Las Colinas Golf & Country Club, a world apart from the hustle and bustle. Alicante airport is 40 minutes drive and Murcia International airport is just 30 minutes drive. The course extends across the valley between the hills and adapts to the unusual lie of the land to blend naturally into the landscape, overlooking orange and lemon groves, flourishing pine forests, with views beyond to the Mediterranean Sea and Mar Menor Lagoon. Indeed, Las Colinas has been voted as one of Europe's Top 100 Golf Courses earning the high acclaim of the world's golf media. Las Colinas also boasts a well-equipped Academy Practice Facility, and many other amenities including Tennis and Padel Courts, a Gymnasium, Nature Trails (3 km) for Walking and Cycling (bike hire available).  The International School of Falconry at Las Colinas can give you the experience of flying birds of prey, with specialist instructors. Who wishes to can take part and enjoy the experience of flying a Harris Hawk, a species known for its sociable nature, or other birds of prey at the school.
The Clubhouse, a large Mediterranean-style building only a few steps away from tees 1 and 10, greens 9 and 18, and the practice facilities, has magnificent views over the lake at Hole 18. Here customers can enjoy the International cuisine at UNiK CAFÉ, Japanese cuisine at enso sushi bar´ or have a drink on the terrace after a pleasant round of golf.
ACCOMMODATION
Las Colinas Residences offers exclusive accommodation staying in 2 or 3 bedroom apartments or villas.  Large lounge with woodland views, 2 bathrooms, fully equipped kitchen, air conditioning/heating, all to a standard you would expect at this location. Ample gardens or terraces and green areas with Communal Swimming Pool and Childrens playground
This will create some very special moments, and memories.
Exclusive Packages
Las Colinas Golf & Country Club
Residences
Rates valid 1 January 2022 – 31 December 2022
Pricing to include:
(Based on 4 people sharing a 2-bed apartment)
(3-bed apartments/villas are also available…just ask for a quote)
Low Season
Jan / June /  Nov / Dec 
2 nights / 2 green fees € 189 pp
3 nights / 2 green fees € 219 pp
4 nights / 3 green fees € 315 pp
5 nights / 4 green fees € 389 pp
7 nights / 6 green fees € 565 pp
High Season
Feb / Mar / Apr / May  / Jul / Aug / Sep / Oct
2 nights / 2 green fees € 205 pp
3 nights / 2 green fees € 245 pp
4 nights / 3 green fees € 345 pp
5 nights / 4 green fees € 425 pp
7 nights / 6 green fees € 619 pp
Golf is to be played at Las Colinas. You can also swap rounds to play at Lo Romero (tee times are Lo Romero are restricted during certain months)
Other durations and green fees are available, ask us for a quote
if you want to replace some of your golf at external courses, we can arrange this for you, just contact us for a personal quote