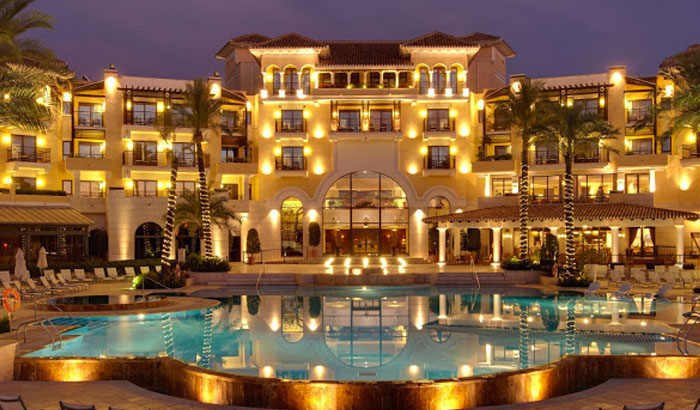 Mar Menor Golf Resort & Spa
The unique 6 Nicklaus Design-Golf Courses of which Mar Menor is but one. Mar Menor Golf Course has its very own "Amen Corner", full 18 holes, and Par 72 course opened in September 2009.
Mar Menor Golf Resort – 5* Caleia Mar Menor Golf & Spa Resort
Located just five minutes from Europes largest inland sea known as the Mar Menor (Small Sea) and is ideally situated for exploring the region of Murcia with its 2600 years of culture and history. The Roman Theatre of Cartagena and the city of Murcia are only 20 minutes from the resort, with the latter being famous for its narrow streets and typical Spanish shops. Murcia&rsquos cathedral built in the 15th century is well worth a visit.
The 5* Star Caleia Hotel at Mar Menor Golf Resort Murcia is a modern contemporary hotel set at the heart of Mar Menor Golf Resort. This is a luxury retreat where you will be able to totally relax in the Murcian sunshine.
This hotel boasts a Luxury Spa, Gym, Business Centre, Indoor and Outdoor Pools, 6 Restaurants and Bars to suit all tastes.
Accommodation
57 Deluxe Rooms, (34m2), all with a balcony and views of the golf course or pool area. Rooms are decorated in a Moorish style with sumptuous bathrooms which include a hydro-massage bath and walk-in shower.
5 Executive Suites, 1 Superior Deluxe Suite and 1 Royal Suite all with large terrace and views of the golf course or pool area. Suites are very spacious and also decorated in a Moorish style with extensive seating area and sumptuous bathrooms.
Mar Menor Golf Resort – The Residences Apartments
The Residences Apartments at Mar Menor are situated in the heart of the Mar Menor Golf Resort. These 1,2 or 3 bedroom air-conditioned apartments all have a private terrace with views of the Golf Course, with access to the community pool. The apartments leave no detail to chance, a modern, bright living room with ample seating, TV, fully fitted kitchen with all the amenities you´d expect and need.

————————————————————————————————————————————————
Package prices from 15th November 2021 – 31 October 2022
Play ANY of these THREE wonderful courses
Mar Menor Golf ,  Hacienda del Alamo & Saurines de la Torre
5* Caleia Mar Menor Golf & Spa Hotel
Based on 2 people sharing a Double or Twin room
Hotel Breakfast included
1 in 8 go free
Low Season
15 November 2021 – 14 February 2022  & 1 May 2022 – 30 June 2022
3 Nights / 2 Green Fees € 329 per person
5 Nights / 4 Green Fees € 589 per person
7 Nights / 5 Green Fees € 789 per person
Mid Season
15 February 2022 – 30 April 2022  & 1 September 2022 – 31 October 2022
3 Nights / 2 Green Fees € 369 per person
5 Nights / 4 Green Fees € 655 per person
7 Nights / 5 Green Fees € 885 per person
Summer Season
1 July 2022 – 31 August 2022
Please ask us for a quote
Prices are based on Double de-luxe rooms, upgrades are possible
If you would like to stay at the fantastic Mar Menor Golf Resort and want to play different courses to the ones listed above, just contact us for a tailor-made quote
We can also arrange airport & golf course transfers to add to your package
4* The Residency Apartments
Based on 4 people sharing a 2 bedroom / 2 bathroom apartment
Air-conditioned and heated with FREE WI-FI
Breakfast included (taken in the Mar Menor clubhouse)
Upgrade to the HOTEL breakfast for a supplement (ask us for details)
1 in 8 go free
Low Season
15 November 2021 – 14 February 2022  & 1 May 2022 – 30 June 2022
3 Nights / 2 Green Fees € 165 per person
5 Nights / 4 Green Fees € 295 per person
7 Nights / 5 Green Fees € 385 per person
Mid Season
15 February 2022 – 30 April 2022  & 1 September 2022 – 31 October 2022
3 Nights / 2 Green Fees € 189 per person
5 Nights / 4 Green Fees € 339 per person
7 Nights / 5 Green Fees € 439 per person
Summer Season
1 July 2022 – 31 August 2022
Please ask us for a quote
If you would like to stay at the fantastic Mar Menor Golf Resort and want to play different courses to the ones listed above, just contact us for a tailor-made quote
We can also arrange airport & golf course transfers to add to your package